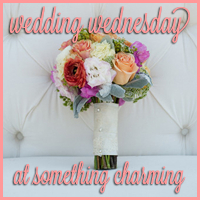 I was cleaning my room at home the other day when I found my parents' wedding video. It was neat to look back on that day, especially since I wasn't there (obviously!). It got me thinking about wedding videos, and how you just don't see them much anymore. People are more concerned about the photos. I used to think that I wouldn't want my wedding videotaped, but my mom told me something interesting. She said that while photos are nice, there's something about videos that's special: the sound. It's hearing the voices of special people who have since left us, hearing yourself make those important vows, hearing people wish you and your husband well. That really struck me. I mean, photos of the shoes you wore are nice, but I'd much rather be able to watch my wedding over and over again.
And so began my hunt for wedding videos. But I found that the most viral ones were not my style at all. They seemed over-produced, over-thought, and just a little bit fake. Maybe that's just me being cynical, but they were not my cup of tea.
Then I found this stop motion video and fell in love. This video is amazing. It told the wedding story from beginning to end without any cheesiness or lipsyncing or over-the-top acting/dancing. And of course the stop motion was done very well.
Then this one made me tear up. It's one of the most sweet, heartfelt videos I've ever seen. Ugh. So cute. Plus she had a gorgeous and modest wedding dress.
This last one is a combination of video and still photos, which was interesting to me. They used a Bon Iver song for this wedding video, which automatically makes it awesome. It perfectly captured the feeling of their romantic beach wedding.
What do you think about wedding videos? Did you/do you plan on having one? I think these videos might have changed my mind.